Mondays, 6.15-7.30 pm
Contact:

---
Toddlers@Lidgett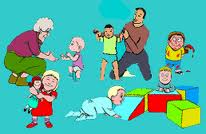 Term time, Thursdays, 10.00 to 11.30 am
Contact: Jan Sanders


293 3700


Children from babies to 4 year olds come with mums, dads, grannies or carers. The children have freedom to play on equipment, do some prepared craftwork, socialise and enjoy drinks, fruit and biscuits. It is a welcome time for adults to socialise as well and make new friends. About a dozen women from the church are helping to run this group.
---
Badminton Club
Mondays, 8.30-10.30 pm
Contact: Jackie Bennett


268 4914
---
Drama Group
Every year the talented and enthusiastic drama group presents a pantomime, and two or three plays, which they perform in several locations across West Yorkshire, not only at Lidgett Park. The performances raise considerable sums of money for charity. They also provide entertainment at social events and sometimes contribute to services of worship.
Contact: Carol Russell


269 8341
Slideshow of Once More With Feeling, June 2022
Slideshow of 2020 pantomime, Sleeping Beauty
Slideshows of other productions
---
Ladies' Group
At 10:30am Fridays (monthly)
Contact: Lynne Pullein


266 5303
or Anne Millett


266 6910


---
Lidgett Singers
Occasionally sing in services. Rehearsals arranged as required.
Contact: David Wilks


293 2960


Lidgett Park Band
Informal group: all instruments welcome. Plays in morning services occasionally with rehearsal before the service.
Contact:
Alan Wittrick

(0113) 261 3392


---
Community Coffee Morning
Bookstall, plants, cards, Traidcraft, cake stall and refreshments, raising money for the annual church project, which supports charitable work in Britain or abroad
1st Saturday of the month 10.00-11.45 am
Contact: Liz Pearson


(0113) 273 6463


---
Social Events
Frequent social events are organised which are entertaining and community-building, and that raise more than £10,000 per year for the annual charity project. In the past ten years the church has raised more than £100k for charitable purposes in Britain and overseas.
In 2017/2018 we raised money to make our main entrance on Lidgett Place more accessible and welcoming to people who come in that way. Included in this work was the addition of fully accessible toilets. In 2019/20 we have been raising funds for Oasis Relief Zambia which provides clean water and for Streeper Village Bangladesh which helps women in that area
Slideshows of recent social events:
Other Organisations Using the Premises
Wednesdays 7.45 - 9.15 in the Community Hall
This mixed choir of 38 voices sings a range of traditional and contemporary pieces and recently won a first prize in the Rothwell Music Festival. No vacancies for new singers at present. Invitations to give concerts welcome.
Contact: John Summerwill

0113 269 7895

---
Wednesdays 8.00 - 9.30 pm in the Youth Hall
A fun and sociable group of ukulele players who love to play a whole range of songs together to develop skills, rehearse for performances and sing too! All sessions will be live-streamed via Zoom and available to watch up to 30 days after the session on Facebook if you are unable to make it to the live session.
---
Wednesday afternoons - 1.45 to 3.45pm
Are you or a loved one living with Parkinson's and want to improve your balance, flexibility and strength? Northern Ballet's dance classes provide an exciting opportunity to work with our expert teachers, accompanied by live music.

The classes are now live to book and this is the link to the webpage with more information:https://northernballet.com/dance-for-parkinsons
---
Mondays 9.45 (0-crawling) and 10.25 (mixed age)
Contact:

---
Saturdays 10-11am
Drama class for children 5-9 years old. Opportunity to develop acting and performance skills, get creative and build confidence.
£6.50 per session, pay as you go. Contact Amanda

0794 1892 273

---
Tuesdays 7.00-9.00pm
Aged 10-14 meet on Tuesdays in the Scout Hut with Stephen Milway and his team and are affiliated to St Edmund's. They enjoy camping, adventure and teamwork. They learn navigating, orienteering and mapwork skills.
---
Mondays 8.30-9.30pm
Affiliated to St Edmund's, Explorers age 14-18 meet in the Scout Hut at Lidgett Park to have fun indoors and outdoors, co-operating with others and making friends. Their activities have a strong spiritual base and a respect for others and the world.
---
Thursday 12.30-3pm Contact 0330 555 0310
---
Wednesdays 6.45pm and 7.45pm
Training of both puppies and adult dogs. Workshops. See website for details.