Welcome to Lidgett Park Methodist Church. We are a friendly community, always ready to welcome visitors and new members to our Sunday services and to any of our wide range of weekday activities. There is something for all ages, and we serve our local community by making our premises available to a number of outside organisations: the premises are busily used every day.
We are committed to expressing our faith in practical ways, and therefore hold many social events that raise many thousands of pounds a year for charitable work in this country and abroad.
We also house the Circuit Office and a substantial preachers' library that is available for anyone to use.
The first buildings (the current hall and vestry) were built in 1910, when the surrounding area was mainly farmland about to be developed into a housing estate. The chapel was opened in 1926. It is a fine building, furnished in polished oak, with something of an 'Arts and Crafts' character.
Our Church Mission Statement
To provide for our church family a basis for spiritual growth, mutual care and support, outreach of faith and witness and seek to raise their awareness of concerns in the wider church.
Ways Forward
Provide through corporate worship and related activities for spiritual growth and the deepening of faith in God through Christ.
Express Christian love through mutual care and support and provide for fellowship for members and for others within the community.
Provide outreach of faith and witness within and beyond the local community and to extend the church family.
Raise the awareness of the church family of concerns experienced by our fellow Christians and others, in other countries, in this city and the neighbourhood.
Click here for a colour brochure with pictures and description of the church's history and features.
---
Buy Now for Christmas
David Wilks, organist at Lidgett Park, has produced a CD which is entitled 'In a Lighter Vein' and includes such favourites as The Dam Busters March, The Flower Song from Carmen, the prelude Londonderry Air, Elgar's Chanson de Matin and Juliet's Waltz Song from Gounod's Romeo & Juliet, just to mention a few.
Importantly, the CD has been professionally produced and the result is a beautiful reflection of David's musical skill and the magnificence of our organ. The CDs are can be ordered from Kathy Benson (07503 083256). The cost is £10 per CD plus £1.38 p&p and ALL the proceeds will go to the Project funds. This would make an excellent Christmas present.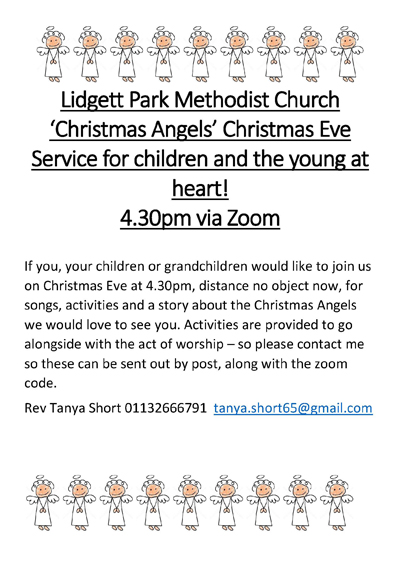 Minister:
Revd Tanya M. Short 

  (0113) 266 6791 

 
Please contact Tanya for any queries particularly regarding baptism, church membership, weddings and funerals.
Organist:
Mr David Wilks 

  (0113) 293 2960 

---
Regular Activities
During the current coronavirus crisis all meetings have been suspended
(3rd Roundhay) Mondays, 6.00-7.30 pm
Contact:Lyndsay Hamilton  

  0751 964 6568  

Toddlers@Lidgett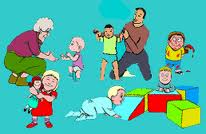 Term time, Thursdays, 9.30 am
Contact: Jan Sanders 

  293 3700 

Children from babies to 4 year olds come with mums, dads, grannies or carers. The children have freedom to play on equipment, do some prepared craftwork, socialise and enjoy drinks, fruit and biscuits. It is a welcome time for adults to socialise as well and make new friends. About a dozen women from the church are helping to run this group.
Drama Group
Every year the talented and enthusiastic drama group presents a pantomime, and two or three plays, which they perform in several locations across West Yorkshire, not only at Lidgett Park. The performances raise considerable sums of money for charity. They also provide entertainment at social events and sometimes contribute to services of worship.
Tuesdays, 7.30 pm
Contact:Carol Russell 

  269 8341
Slideshow of 2020 pantomime,Sleeping Beauty
Lidgett Singers
Rehearsals after monthly Saturday coffee mornings and at other times as arranged
Contact:David Wilks 

  293 2960 

Lidgett Park Band
Informal group: all instruments welcome.Plays in morning services every month or two with rehearsal before the service.
Contact:
Howard Clinkard

(0113) 267 2986

Housegroups
Monday afternoon group:Contact:Margaret Mattocks 

  266 8727

Tuesday evening(joint with Shadwell Methodist Church at Shadwell)
Contact:Revd Tanya M. Short 

  (0113) 266 6791 

Community Coffee Morning
Bookstall, plants, cards, Traidcraft, cake stall and refreshments, raising money for the annual church project, which supports charitable work in Britain or abroad
1st Saturday of the month 10.00-11.45 am
Contact:Howard Clinkard  

  (0113) 267 2986 

Social Events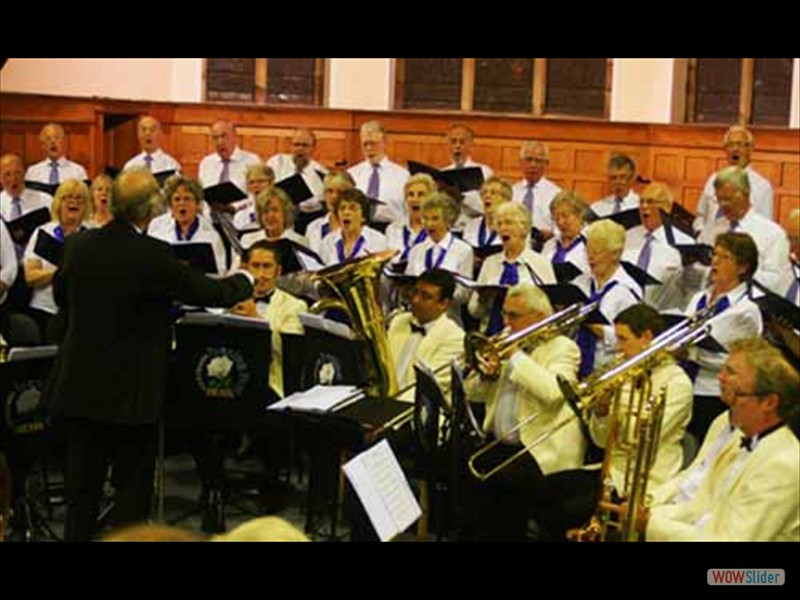 Frequent social events are organised which are entertaining and community-building, and that raise more than £10,000 per year for the annual charity project. In the past ten years the church has raised more than £100k for charitable purposes in Britain and overseas.
In 2017/2018 we raised money to make our main entrance on Lidgett Place more accessible and welcoming to people who come in that way. Included in this work was the addition of fully accessible toilets. In 2019/20 we have been raising funds for Oasis Relief Zambia which provides clean water and for Streeper Village Bangladesh which helps women in that area
Slideshows of recent social events:
Other Organisations Using the Premises


For children 2½ - 4 years
Monday and Tuesday 9am to 3pm, Wednesdays 9am-12 noon, term time only
Contact: 

  0771 2847753 

Jeannette heads a team of helpers who run this structured Ofsted pre-school nursery, which was
started by Loma Crawford in 1964 and taken over by Jeanette in 1998. Their many activities help them to learn [through play and socialise
together.
See also Toddlers@Lidgett above
---
Mondays 9.45 (0-crawling) and 10.25 (mixed age)
---

Tuesday 10.00-10.45am
Music and drama for the under 5s.
Contact:Ceri Ford 

  07736 937982 

---
Candystripe- Out of School Kids' Club
M
onday to Friday
Term time: 7.30-9.00 am
and 3.00-6.30 pm

Candystripe look after children from about 6 to 11 years before and after school each day during term time. There are many activities for them as well as some quiet space. They provide a breakfast club and a variety of food for those who are "starving" at the end of school.

Contact: 

  0113 225 1872 

---
Friday mornings and Saturday mornings. Liam and his team have lots of fun with the children as they learn new ball skills and learn to co-operate as a team.
---
Tuesday 6.15-7.15pm
For girls aged 5-7. Affiliated to St Edmund's.
They learn about belief, being kind and co-operating with one another.
---
Tuesdays 7.00-9.00pm
Aged 10-14 meet on Tuesdays in the Scout Hut with Stephen Milway and his team and are affiliated to St Edmund's. They enjoy camping, adventure and teamwork. They learn navigating, orienteering and mapwork skills.
---
Mondays 8.00-10.00pm
Affiliated to St Edmund's, Explorers age 14-18 meet in the Scout Hut at Lidgett Park to have fun indoors and outdoors, co-operating with others and making friends. Their activities have a strong spiritual base and a respect for others and the world.
---
Wednesday afternoon and evening classes, all ages
Contact: